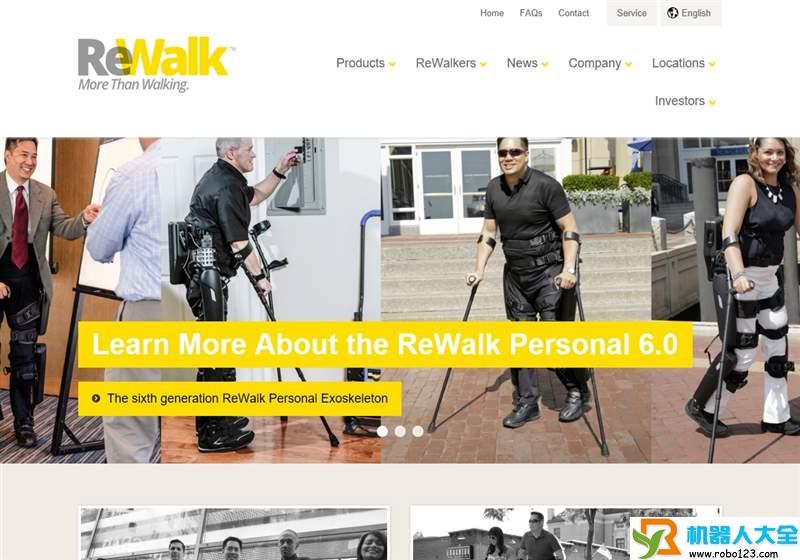 ReWalk Robotics

公司:
分类:工业机器人
人气指数:34124
网站世界排名:第631437名. 德国排名:第117351名
&nbsp&nbspReWalk Robotics is an innovative medical device company that is designing, developing and commercializing exoskeletons allowing wheelchair-bound individuals to stand and walk once again.

&nbsp&nbsp

&nbsp&nbspOur mission is to fundamentally change the Quality of Life for individuals with lower limb disability through the creation and development of market leading robotic technologies.

&nbsp&nbsp

&nbsp&nbspCurrent ReWalk designs are intended for people with paraplegia, a spinal cord injury resulting in complete or incomplete paralysis of the legs. The system uses patented motion sensing technology along with battery-powered motorized legs powering knee and hip movement which is controlled by proprietary on-board computers and software.

&nbsp&nbsp

&nbsp&nbspThe ReWalk™ systems allows the user to sit, stand, walk, turn and has the ability to climb and descend stairs*. ReWalk users are able to independently operate the systems.

&nbsp&nbsp

&nbsp&nbspReWalk currently offers two systems:

&nbsp&nbspReWalk Personal: Designed for everyday and all day use by individuals at home and in their communities, and is custom-fit for each user.

&nbsp&nbsp

&nbsp&nbspReWalk Rehabilitation: Designed for the clinical rehabilitation environment where it provides user with valuable training exercise and therapy.

&nbsp&nbspReWalk received - as the first exoskeleton in US - the FDA clearance to market in 2014.

&nbsp&nbspCE and additional regulatory approvals exist in select geographies.

&nbsp&nbsp*Stairs function not currently available in the USA.